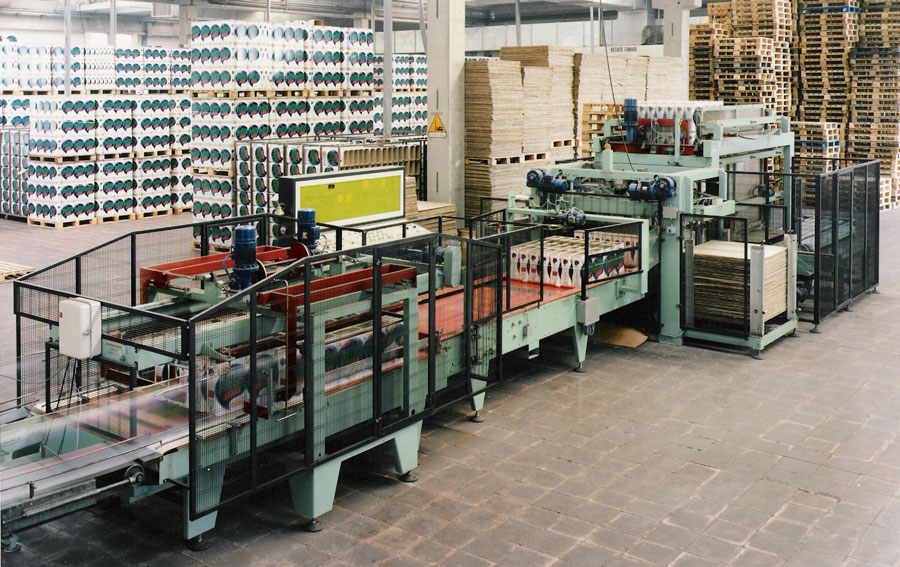 In the mid Eighties, Officina Freddi was granted a production order by an important multinational company operating in Italy, for the construction on an entire production line for detergent containers.
This production order constituted a real challenge for Officina Freddi, submitting a proposal not only as manufacturer of the line but also as producer of the first lot of containers within its own factory, in two work shifts.
The challenge was met successfully, so much so that these types of system became a part of the Officina Freddi standard production, and in the subsequent years about twenty such systems were sold, some of which in Japan.
The system in question forms various types of cardboard containers starting directly from the paper reel.
The container body is obtained by wrapping glue-coated paper around a pre-formed mandrel several times, to obtain the desired container shape.
Then, the containers pass through a vast vertical conveyor system that serves as an aired storage unit to guaranty that the containers are completely dry before reaching the work station where the bottom and the upper and lower borders of the container are applied.
A possible additional stage consists in riveting the plastic handles to the container near the top end.
The system also provides for the possibility of producing containers in different shapes (rectangular, square, circular, and polygonal).
Some characteristics:
External dimensions of square containers:
Length: max mm 320 min. mm 180
Width: max mm 200 min. mm 90
Height: max mm 450 min. mm 200
Technical data:
Installed power: kW 24.
Compressed air consumption: 300 Nl/min. at 6 bar
Throughput speed: up to a maximum of 30 pieces/min.