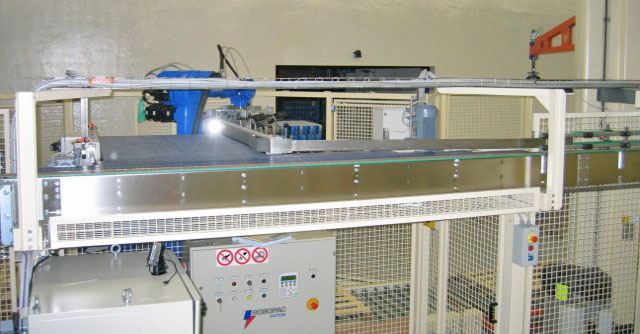 In 2004, a Swiss company specialised in the storage and merchandising of a powdered food product decided to begin producing the product (up until then purchased from outside contractors) within its own plant, in small company-owned premises.
The customer required a completely automated system with a medium/small production potential, to be installed in a narrow area of the company-owned building.
The production order was assigned to Officina Freddi as far as the design and realisation of the packaging section in collaboration with a partner company in charge of packaging the powered product in cans.
The project was not limited to just pure automation, but also comprised upgrading the factory's general system services and all consulting aspects regarding the most appropriate type of packaging.
The system in question was designed based on input directly provided by the customer, who requested extreme automation and, at the same time, ease of management. The choice fell on a multi-functional robot (ROBOPAL model), which depalletisers full boxes and handles empty pallets and dividers.
The Freddi system is completed by an aerial empty jar combiner that leads to the filling station, by an enbloc forming-packing machine (IN-A/5 model), by a taping machine, a carton marking machine and a pallet wrapping machine, fully equipped with connecting conveyors and rollerways.
The system was also wired with a network between machines and equipped with a monitoring system and a wireless video camera, for remote access to the system for servicing.
Currently, the system is managed by one person, whose sole task is to feed the containers (empty jars, cartons, pallets, caps) and stock the full pallet magazine..