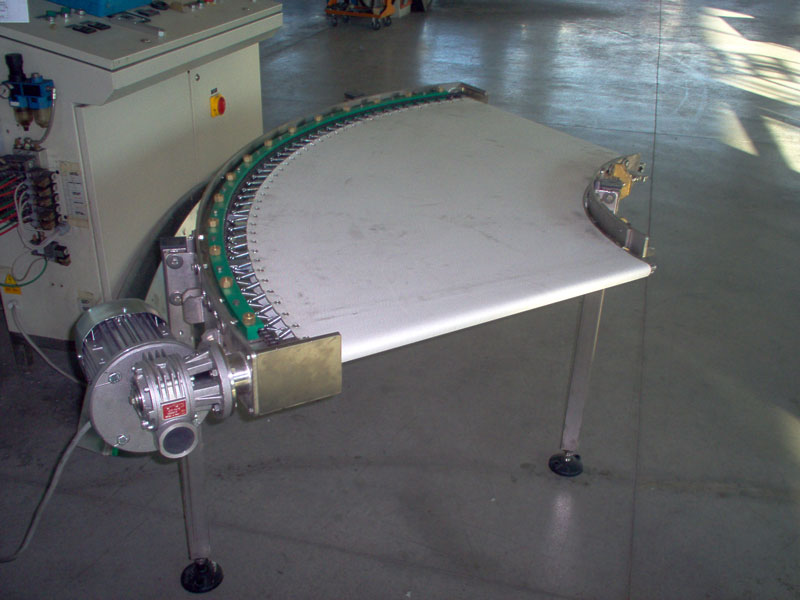 This kind of conveyors is used in various fields (food, chemistry, bottling, etc.) thanks to their technical and functional performances.
The conveyors can be realized in painted carbon steel as stainless steel works. The modular collecting belts may have specific duties for the kind of the employment of the conveyor.
Our conveyors can be straightway – curvilinear or they could even be used as elevators, in case they have proper collecting belts with transmission modules according to the kind of product to be conveyed.
Our conveyors can be delivered with different kind of motorizations (gearmotor, convertor, inverter managed motors or brushless) in required trademarks.
Employment:

It's about modular conveyors with low coefficient of friction used in the conveying process of bottles, pots, small boxes, etc. other kind of application allow a storage of boxes full of no-elevated weight content.
The elevators allow the connection of the conveying of boxes and wraps according to the requirements of the single factory.
The added value of FREDDI's modular belt conveyors:

High level of sturdiness
Chance to handle even products normally employed in different ways ( for example bottles and boxes)
Accurate modularity
Availability of differents lengths
Adaptability to the requirements of the system
Sure cleaning of all the parts
Safety in the dangerous areas
Quick and easy assembling and deassembling of the belts
Quick sizing (if necessary)
The added value of FREDDI's elevators:

High level of sturdiness
High reachable speeds
Reduced overall dimensions
Changing height according any requirements
Sure cleaning of all the parts
Safety in the dangerous areas