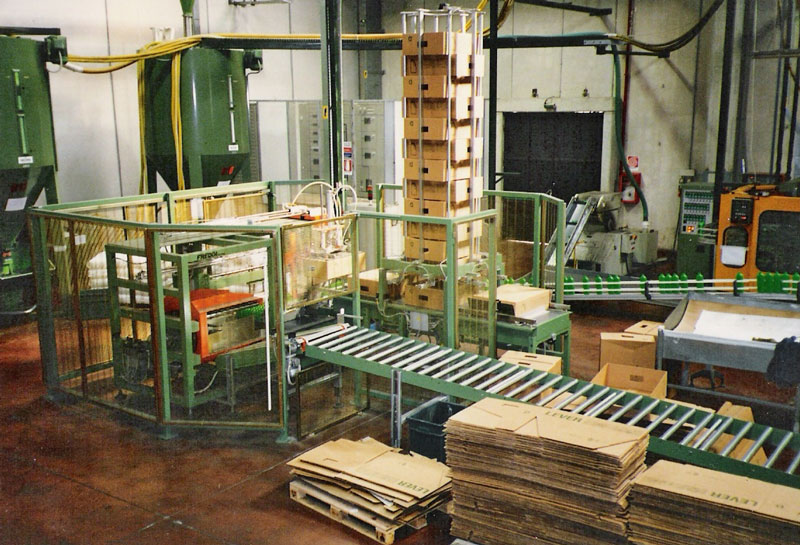 Officina Freddi can provide customized solution to stack tinplate boxes, cardboard boxes, etc. Scroll this section to see some examples.
Automatic stacker /un- stacker for cardboard mod. IM-A-C/10
Machine required for create storage units along the transportation line for boxes or cases.. 
The machine is mounted close above the conveyor. The boxes or cases are taken individually or in sets of pieces, depending on the quantity necessary, and lied vertically in order to create stacks of the desired height (for instance when short machine stops occur further down the line);they are then released onto the conveyor (for example when the conveyor resumes).
Productive capacity: n. 10 cycles/min.
 
Automatic system for the packaging of boxes or cans mod. ICO-A-L/300
The system offers a new type of packaging for products in boxes. The advantages are evident in the low cost of packaging and the attractive presentation of the product. The system is able to form piles of boxes or cans (in sheet tinor aluminium) and to follow the vertical wrapping done by polietilen, achieving a stable product, with optimal presentation and minimum packaging costs.
The system can be completed down the line from the wrapper, with the insertion of a cardboard packaging machine or a thermoretractor for the final packaging.
The example shows the complete system for wrapping-packaging developed for Delamaris.
Output: 300 Boxes/min.