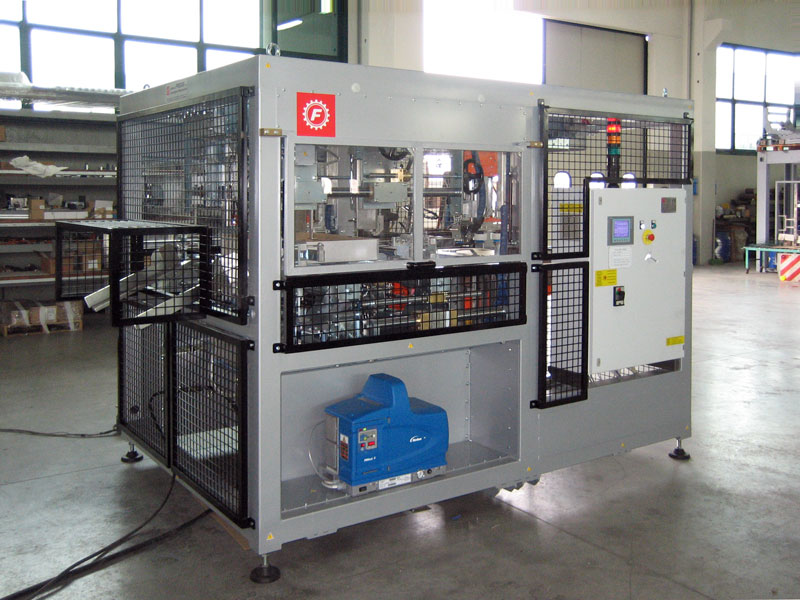 The machine is able to mould trays (by hot-melt closure) obtained by matched cardboards blanks.
The following technical features enable the machine to answer to the various requirements concerning the packaging market:
Very fast and easy change size without wrenches and without replacement of parts.
Possibility (on request) to mould trays having different angle closure kinds, for example:

90° corners closure.
Bevelled external limb overlay (bevels having different angles).
Round angles (very useful for bottles locking and stability).
Possibility to manufacture mixed kinds of closures: for ex. nr. 2 round corners and nr. 2 bevelled corners).

Possibility to feed manually the blanks to the dynamic blanks magazine during the machine running. This opportunity provides an output continuity.
On request, the machine is equipped with a trays outlet conveyor.
A 180° tray turner unit can be installed on the outlet conveyor. The unit is necessary when the palletizing line needs trays and turned trays.
On the outlet conveyor there is the possibility to install a tray centring device at the gripping point.
Productive characteristics:

Matched cardboard blank sheet.
Dimensions of erected trays:
MAX: 640x840x150H mm.
MIN: 360x560x80H mm.
Closure with N. 2 hot melt strips for each corner
Machine's output: 8 tray/minute
Technical data:

Installed power: 7 kW
Compressed air consuption: 180 Nl/minute at 6 bar