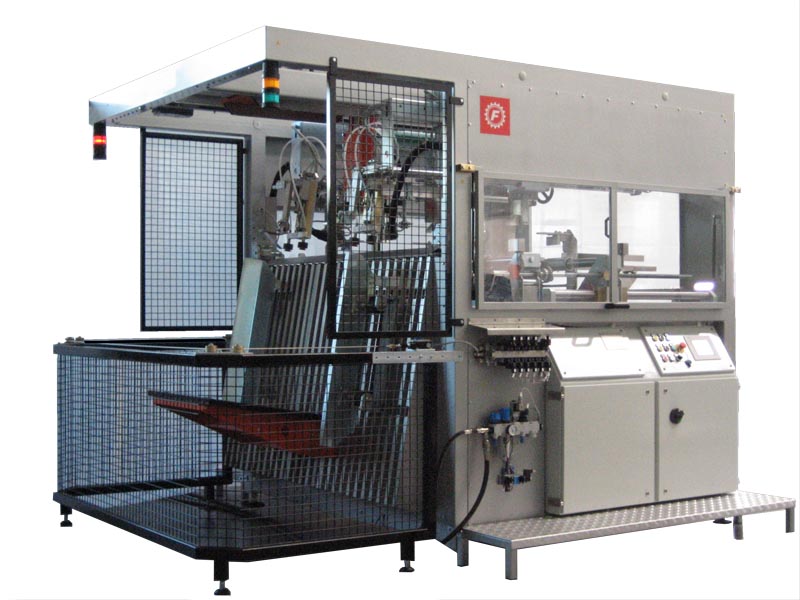 The machine offered can form trays from carton blanks sheets.
Here following are some examples of the technical features thanks to which our machines meet the varied market demands in terms of packaging.

- Extremely simple and fast format changeover system, without the need to use spanners or substitute parts.
- Possibility of passing quickly from forming a very large tray (1000x1200 mm) to forming a medium/small sized tray (600x400 mm).
- Capability of forming (if required) trays with a variety of corners.

Types of closing systems:
- Closed with 90° corner
- Closed with chamfered corners (various degrees)
- Closed with rounded corners (very effective to block or stabilise bottles)
- Mixed closing systems: for example, 2 rounded corners and two chamfered corners

- High throughput speed. If requested, the machine can form up to 16 trays/minute.
- Blanks can be manually fed into the dynamic cardboard magazine while the machine is running. This allows for continuous production.
- If requested, the machine may be equipped with a tray exit conveyor.
- If requested, a system that rotates the trays 180° degrees may be installed on the tray exit conveyor.
This system is indispensable when the machine is installed on a palletising line that requires trays and lids.
- The discharge conveyor may be fitted with a tray (or lid) centring device in the lid inserting system, at picking point.
- Automatic blank infeed directly from pallet.
Erected tray dimensions:

Max dimensions: 1000x1250x150H
Min dimensions: 380x560x50H